LSKO 2014 Tournament Date will be: Saturday April 26th 2014


Congratulations to the Shower Hammers from New York!
Back-to-Back Winners of the LSKO 2012 and 2013 tournaments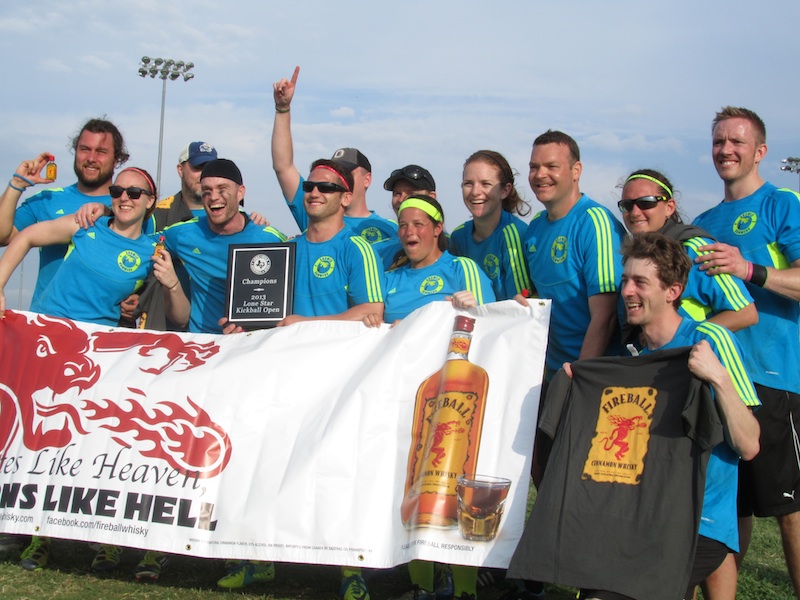 About The Tournament:

The Lone Star Kickball Open (LSKO), presented by The IKF, is a national tournament that is open to kickball teams from all over the world. It is an open tournament, meaning that teams do not have to be invited nor otherwise qualify in order to take part in the tournament – any kickball team can register to play. In fact, a team does not even have to be part of any official, organized kickball league, national or otherwise. Anyone can create a team and register that team to play. The only requirements are that teams must field 10 players, at least 4 of which must be female, and all team members must be at least 21 yrs or older on the day of the tournament.

LSKO 2014 will take place Saturday April 26th 2014 in Austin, Texas and is an official International Kickball Federation (IKF) sanctioned tournament – the IKF are the same coordinators that host the South Florida Kickball Open, one of the largest and most competitive tournaments in the country. The LSKO is also part of the Kickball365 National Circuit Tour, and will therefore be an actual official Circuit tournament event.
Rule Book: The 2014 tournament will use the Kickball365 CIRCUIT Rule Book
Teams from not only Texas but across the nation enter to compete against each other for cash and other prizes. The tournament itself is not the only event to take place on tournament weekend. The weekend is fllled with social events and parties with special disounts for kickballers and friends.

See Schedule page for more information
What to expect at this event?
When attending this event you should expect a few things: an awesome time, a chance to meet a lot of kickballers from across the country, the toughest competition in the sport, and a good tan!
Can anyone attend this event?
Yes, anyone who is 21+ years or older. The minimum requirements for a kickball team at this event is four (4) males and four (4) females.

Tournament Prizes
Tournament prize amounts are dependent upon the number of teams entering the tournament.
For the 2013 tournament, the prize money will be as follows for the top 4 teams:
1st Prize $tba
2nd Prize $tba
3rd & 4th Prize $tba each


Come party with fellow kickballers from across the nation, and spend a day or two soaking up music in the "live music capital of the world." Enjoy down town Austin, where great restaurants and bars seem to go on forever. We look forward to seeing you at the tournament in April!